KnotPlot VRML Models
There are several models here, to give you a taste of things to come. At the moment I don't have the time to do anything fancy. Let me know if there is any other knot or link on another of my pages that you'd like to see in VRML format.

Many more VRML models of one-component knots are available on the ideal knots page.
Uncompressed (109 kbytes), compressed (41 kbytes)
Uncompressed (36 kbytes), compressed (14 kbytes)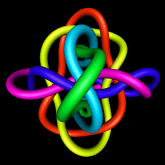 Uncompressed (158 kbytes), compressed (44 kbytes)
Uncompressed (271 kbytes), compressed (88 kbytes)
Uncompressed (121 kbytes), compressed (43 kbytes)
---
Go to the KnotPlot Site or Rob Scharein's main WWW page.

Copyright © 1998 by Robert G. Scharein